Assange Court Report October 28: Afternoon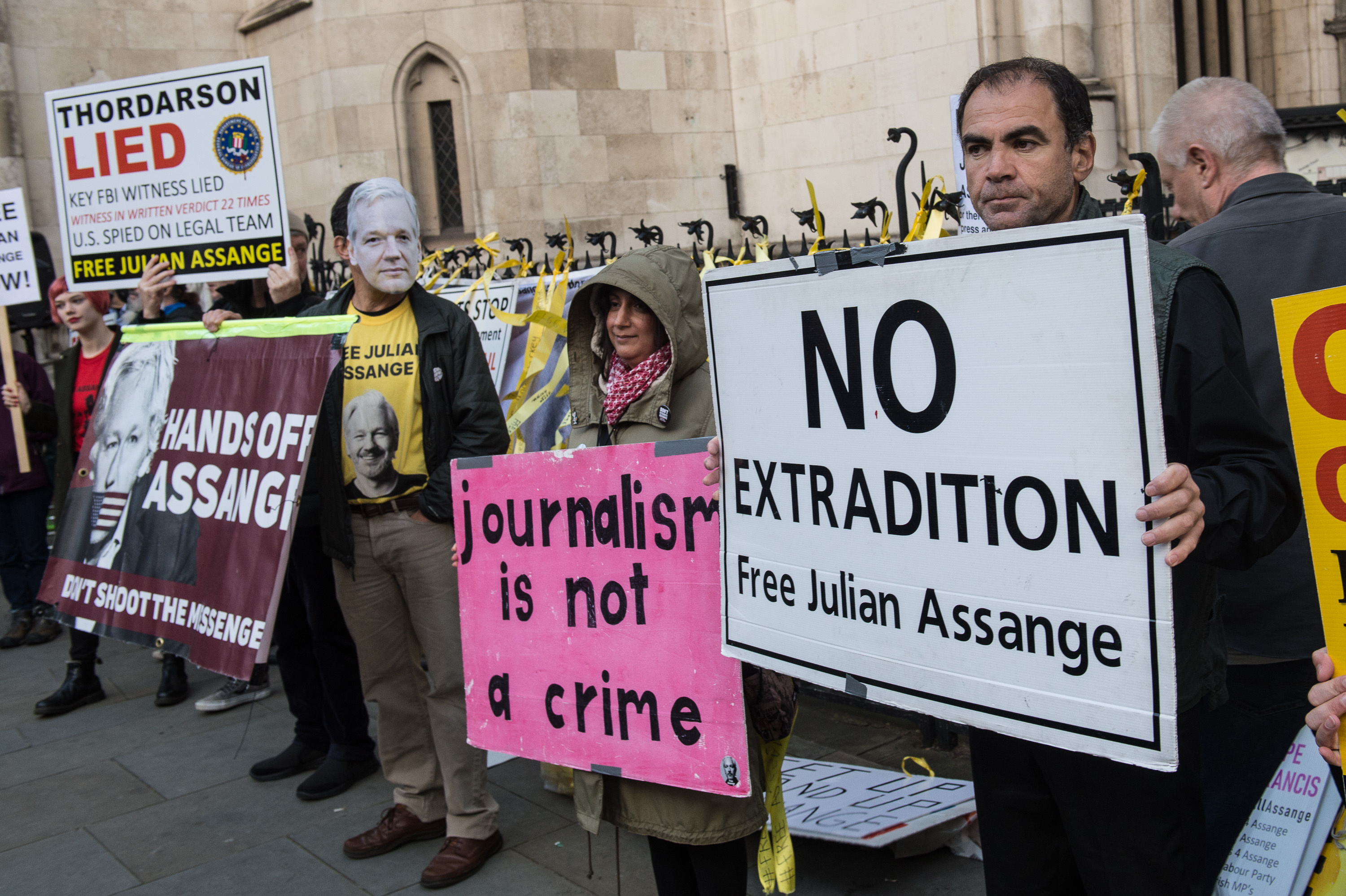 Assange lawyers question validity of US assurances
US government assurances about the treatment of Julian Assange, if he is extradited, are "conditional, qualified and aspirational," the High Court has been told.
Mark Summers QC, who is part of the Wikileaks founder's defence team, was commenting on a new US Government statement that their intention was not to imprison Assange under Special Administrative Measures (SAMs) or be placed in a high security Supermax prison.
He asked the two judges to consider that the assurances had only appeared at this appeal hearing, "Why are they allowed to change their case after two years with a mentally vulnerable defendant in custody?" he asked, adding "if there was no risk of SAMS they could have made a firm commitment not to impose them, which they have not. This might give us an indication of their intentions," he said.
"There are genuine questions about their trustworthiness," he said.
Summers also drew attention to a number of statements presented to the original hearings in the case, which led to a district judge rejecting the US extradition request, noting that while being central to the government's case, Assistant United States Attorney Gordon Kromberg declined to take to the witness stand and be cross-examined.
Summers suggested that Krombeg's statements do not rule out SAMS or Supermax prisons, but instead argued that "they are ok." He quoted Kromberg's statements where he had said prisoners in a Supermax jail were not in solitary confinement as they could "shout to the prisoners in the cells beside and above them."
"This assurance takes us nowhere at all," Summers said.
Summers said that the CIA has classified Wikileaks as a "hostile non-state intelligence entity," and according to credible media reports wanted "vengence" over the leaks from the CIA to the extent that they had considered kidnapping, or even assassinating Assange.
Sommers also noted the Spanish extradition case of a Mr Mendoza in which US prosecutors had guaranteed that if he was extradited and convicted he would be sent back to Spain to serve his sentence. He was duly convicted and applied for transfer but this was refused by the Department of Justice. Summers said that prosecutors could assert what they wished, but any transfer would ultimately not be their decision.
Moving onto possible sentences, the barrister told the court, "Every single lawyer, including experienced judges, who have looked at this say these guidelines would lead to a de facto life sentence… which he would spend in complete isolation."
Responding on behalf of the US Government, James Lewis QC told the court that Mr Mendoza was eventually returned to Spain to serve his sentence, "Every diplomatic assurance was honoured," he said. The barrister submitted that defence arguments about Assange spending his life in a supermax prison under SAMs were "entirely speculative." adding that the conditions in these met the requirements of Article 3 of the European Convention Of Human Rights.
Lewis then dismissed the defence argument that the assurances had come too late. "We could start the extradition process all over again, with the assurances," he said, noting that it was usual only to provide these after a court had expressed concerns.
"These are decided at the highest level, they are not dished out like smarties," he said adding, "They are a responsible step for an extradition partner to make."
Lewis continued by saying "My learned friends have completely shifted their ground," reminding the court that the US government had pledged to allow Assange to serve any sentence in Australia so there was no prospect of him spending the rest of his life in a Supermax prison.
Lewis then ended his submission.
The two judges, The Lord Chief Justice Lord Burnett and Lord Justice Holroyd thanked the parties and retired to consider their decision.
Follow us on Twitter for live updates on the proceedings: @bridges4media