Assange Court Report September 15: Morning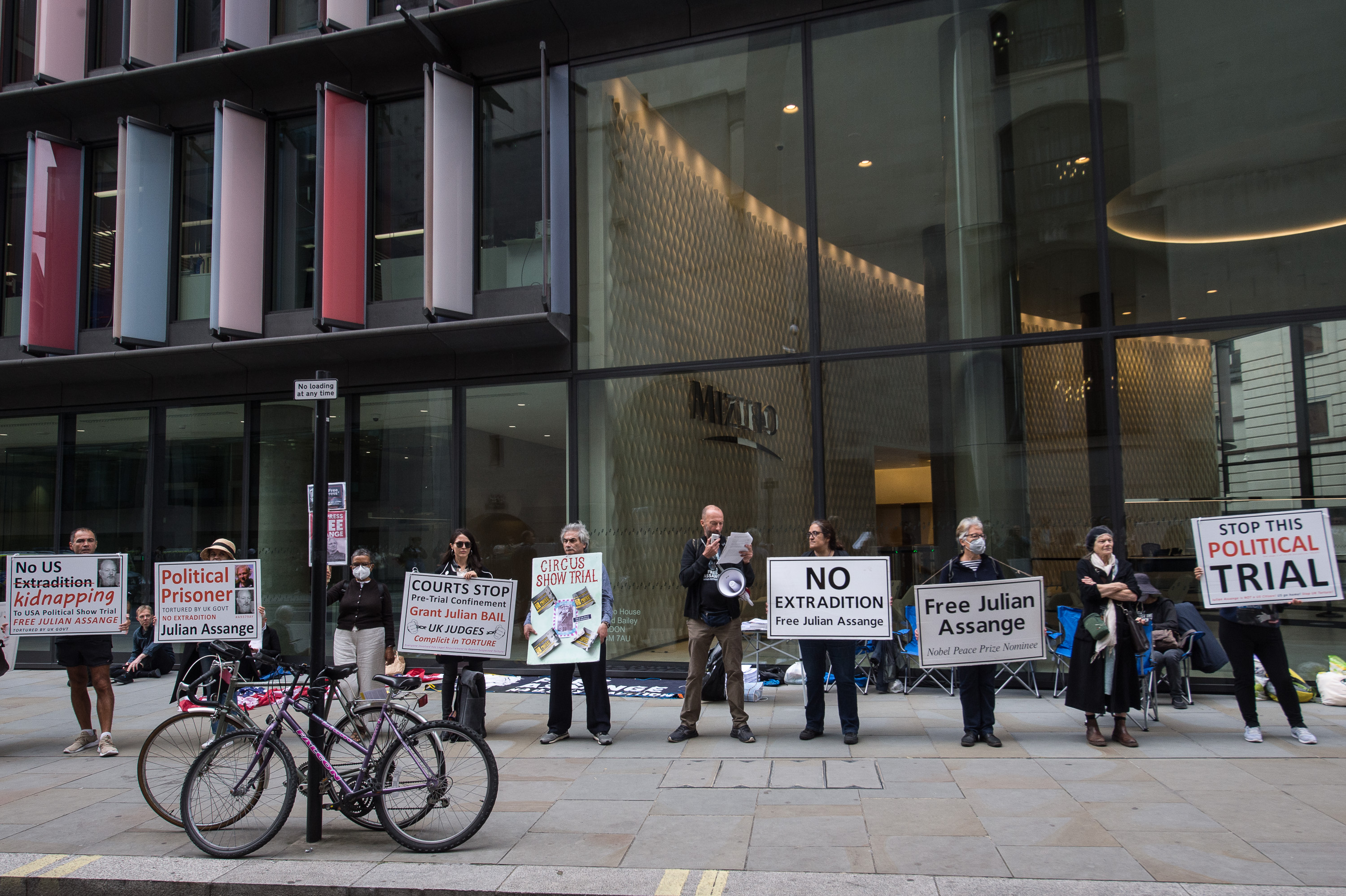 Trump wants Assange jailed and kept quiet, court told.
A witness at the Julian Assange extradition case in London has testified that the prosecution of Julian Assange is part of a Donald Trump effort to distract attention from the help WikiLeaks gave him during the election, "He wants to put Assange in jail and keep him quiet," he told the court.
Eric Lewis, a US attorney, was giving his third day of evidence in the case, which has been marred by numerous technical issues with his trans-Atlantic video link.
The lawyer testified that he believed political pressure was put on US district attorneys to prosecute Assange, citing a New York Times article which quotes a "senior official," saying just that. Asked if US prosecutors were not immune to political pressure, he read out a quote from President Trump, "I can do what I want with the Justice Department," adding that current US Attorney General, Bill Barr, saw himself as "the hand of the President."
Lewis told the court that "all the facts were out there by 2012," no-one has ever said that the facts had changed, yet the Trump administration suddenly decided to prosecute.
Asked by the prosecutor what qualifications he had in political affairs to make this statement, the witness replied that he has a degree in Public and International Affairs from Princeton University.
Before being cross-examined by his namesake, James Lewis QC, who is acting for US government, the witness cleared up the mystery of why his feed was interrupted yesterday by an apparent clip from US Fox news suddenly appearing on the screen, which had led to social media claims that he had been hacked. The witness explained that he had been trying to access a document on his own computer and the clip had been embedded in it and had accidentally played.
The prosecutor took issue with the witness's earlier testimony that Mr Assange faced 175 years in prison if extradited to the United States on espionage charges over publishing classified government documents on the website he founded, WikiLeaks.
The prosecution suggested that only a tiny percentage of offenders in America received the statutory maximum sentence, quoting US government sentencing guidelines in their support.
They also cited the case of a former CIA agent, Jeffrey Sterling, an American lawyer and former CIA employee who was arrested, charged, and convicted of violating the Espionage Act for revealing details about an "Operation Merlin," to journalist James Risen. Sterling, the prosecution said, had faced a sentence of 130 years, but after his conviction was only jailed for 42 months. Lewis replied, "But there has never been a case like this."
The prosecution then moved onto to the issue of freedom of speech and national security, arguing that there were certain pieces of information that if leaked could jeopardise the security of the nation, Lewis replied that this applied to issues like publishing the date troop ships would be leaving port in wartime, but none of this applied to the actual information released by Wikileaks which, he said, exposed war crimes in both Iraq and Afghanistan. He said the reason the Obama administration had decided not to prosecute Assange was what he called the New York Times problem, the Justice Department then had concluded that there was no way to prosecute him for publishing classified information without the same theory being applied to many other journalists. However, he said, the Trump administration had ignored this in a rush to prosecute Assange.
The witness also told the court that, if extradited, Mr Assange could face up to three years on remand before even facing a US court.
The trial continues.
Follow us on Twitter for live updates on the proceedings: @bridges4media